Jacob Thomeczek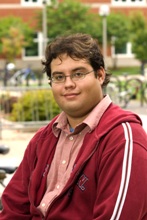 Jacob Thomeczek
History and Political Science double-major, Public Administration and Economics minors
Education
Hickman High School
Columbia, MO
Organizations
Funds Allotment Council-Treasurer Historical Society-Vice President Academic Competition Organization Newman Center Phi Alpha Theta Pi Sigma Alpha
What attracted you to Truman? I was impressed by Truman's reputation, and really wanted to go to a liberal arts college near home.
What do you like best about Truman? I really enjoy the size of the community-it's very easy to get to know your fellow students and your professors.
What has surprised you about Truman? For one, the people-I've been blown away by my professors and peers. Second, SAB. Kirksville is a small community, but the acts they are able to bring to campus are fantastic-I especially enjoyed Jim Gaffigan and John Oliver.
What do you like most about your classes? I really enjoy the professors, who are always knowledgeable and helpful. However, my favorite classes are those that are centered on discussion rather than lectures-it's always fascinating to have a serious discussion with other students whose views differ greatly from mine.
How would you describe life at Truman to a friend? Life here is quiet and studious when it needs to be, but fun in the most interesting ways when it has to be. Overall, it's great.
Have you studied abroad, done an internship, or participated in undergraduate research? In 2008, I interned in the Nixon for Governor campaign. Last semester, Truman sponsored a trip to La Crosse, WI so I could present a paper on judicial independence and religious freedom at the National Conference of Undergraduate Research.
What are your plans after graduation? I'm planning on graduate study in political science - ideally, I'd like to get a PhD and teach.
What do you do for fun in Kirksville? There's an interesting variety of restaurants and shops on the Square, and I enjoy heading out to Thousand Hills every once in a while. And, there's nearly always something interesting happening on campus-in particular, I love going to the plays that the Theatre Department puts on.